Do you like our recipe? share it
Homemade pasta is a gesture of love. Choose and weigh the ingredients carefully, find the right place and time to work with peace of mind, arm yourself with patience to rearrange. An art and a commitment.
La Molisana offers the fragrant durum wheat semolina, ground in our mill, as an ally for an excellent result. The 100% Italian wheat and the delicate sanitizing process of stone hulling favor a healthy and nutrient-rich product. The high protein content ensures a firm and compact dough, pleasant to work with. Tagliatelle, fettuccine, pappardelle, tenacious and tasty gnocchi. Few steps, great result for a homemade durum wheat semolina pasta to perfection!
For those who love a semolina with a smaller grain size, the Remilled Durum Wheat Semolina is absolutely recommended, made with 100% Italian wheat, with a golden yellow color and an intense aroma, perfect for bread, desserts and rustic dishes.
500 g Durum Wheat Semolina
250 g Water
Salt to taste.
In this recipe we use:
DURUM WHEAT SEMOLINA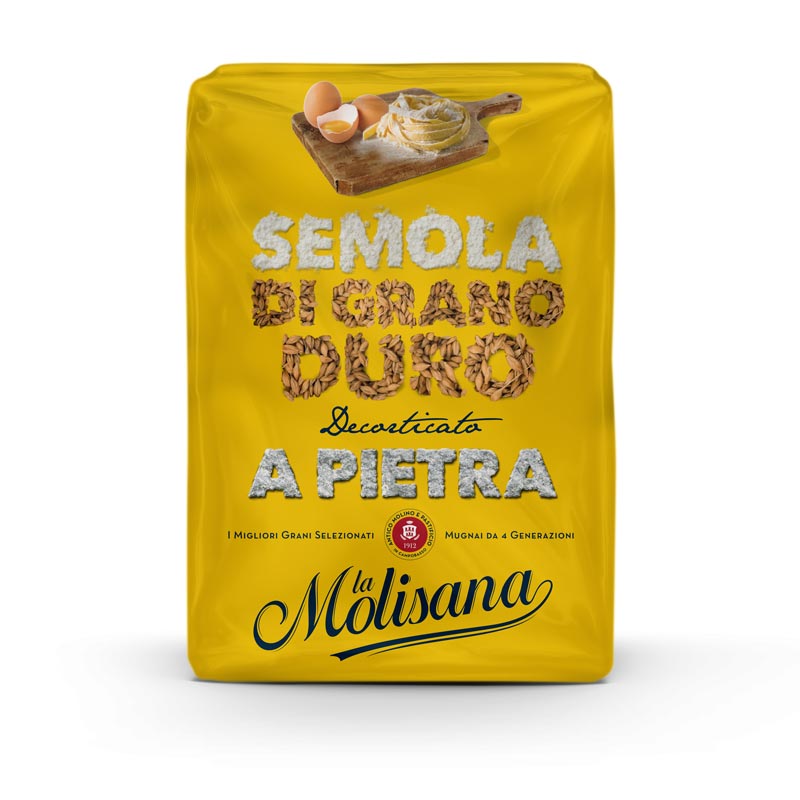 How to prepare fresh pasta
Collect 500g of La Molisana durum wheat semolina in a glass bowl.
Dissolve a pinch of salt in a separate bowl with 250g of water.
Pour the water with salt over the durum wheat semolina and knead with your hands until you get a compact dough.
Place the dough on a cutting board, sprinkle with a little wheat semolina and cover with a cotton cloth, leaving it to rest for 10 minutes.
Resume the dough, refresh it with a sprinkle of durum wheat semolina and roll it out with a rolling pin until you get a smooth sheet.
Divide the pastry in two. Roll each of the two sheets and cut into slices to obtain many strips of long pasta such as tagliatelle or fettuccine, depending on the thickness and length.
Place the pasta thus obtained on a tray covered with a cloth, waiting for the water to boil.
Pour the pasta into the salted water and cook for a few minutes, as long as it rises to the surface.
Drain carefully and season to taste.