Do you like our recipe? share it
It is synonymous with Italy, it has the Italian flag incorporated, it is economic, democratic and versatile, in short, it is the antechamber of paradise. It's the pizza!
A pleasure that we would like to give ourselves more often during the week, but which, in order to save the figure and digestion, is destined to cheer especially the weekend.
La Molisana has put its centuries-old expertise on durum wheat to good use and created a re-milled semolina perfect for a digestible, nutritious and satiating pizza.
Our Durum Wheat Semolina for Pizza rich in proteins, with high hydration capacity is ideal for long leavening. During the leavening, a tightly meshed gluten network forms, which allow the dough to increase in volume, remaining compact, homogeneous and easy to work with. The result is a crunchy pizza, with a large honeycomb, easy to digest and with the unmistakable fragrance of wheat. To try!
1000g Durum Wheat Semolina for Pizza
700g Water
30 g Extra Virgin Olive Oil
25 g Salt
15g Brewer's Yeast
In this recipe we use:
DURUM WHEAT SEMOLINA FOR PIZZA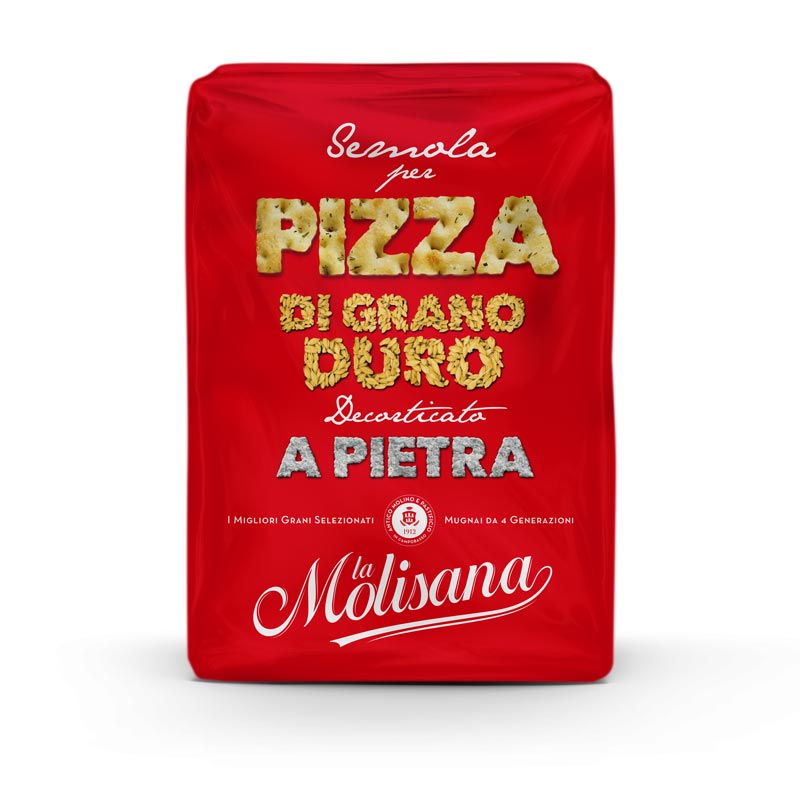 How to prepare pizza dough
Pour into a large bowl 1000g of Durum Wheat Semolina for Pizza, 550g of water in which we have previously dissolved 15g of brewer's yeast and work for 5/6 minutes until the dough is compact and homogeneous.
Dissolve 25g of salt in 150g of water in another container and add to the semolina mixture, adding 30g of extra virgin olive oil. Knead with your hands to mix the ingredients.
Transfer the dough to a work table dusted with re-milled semolina and continue to knead until a homogeneous and elastic dough is obtained.
Leave on the table to rest for 10 minutes;
Resume the dough, cut it into two portions and knead until you get 2 smooth and compact loaves;
Leave the loaves on the table to rest for 2 hours covered with a cloth.
Take the loaves back and work them with your hands before placing them on the baking sheet;
Add tomato puree, diced mozzarella, a few basil leaves and finally a little extra virgin olive oil.
Bake for 10 – 15 min at 250°C.