Do you like our recipe? share it
Bread has always been considered a safe haven, the one that should not be missing in the pantry, because it is able to satiate and with the combination of a few ingredients it becomes a complete meal. And then, it is a gesture that requires slowness, waiting time, patience that forces us to slow down the frenetic pace. Making bread is a bit therapeutic!
To make a delicious bread, La Molisana offers a healthy and nutrient-rich re-milled durum wheat semolina, obtained only from Italian wheat grown in the Central-Southern regions and ground exclusively in our mill since 1910. What characterizes our product is it what makes it unique is the shelling of durum wheat, according to the traditional stone method, which purifies the grain with care and respect. The result is a golden semolina, with an absolutely natural taste and high safety standards, with an unmistakable fragrance of wheat and an excellent protein content, excellent for having fun in the kitchen with sweets, pizza, bread and desserts.
If you like to experiment, try the dough with wholemeal durum wheat semolina.
1000 g Double Milled Durum Wheat Semolina
700 g of Water
30 g Extra Virgin Olive Oil
25 g Salt
15 g Brewer's Yeast
In this recipe we use:
DOUBLE MILLED DURUM WHEAT SEMOLINA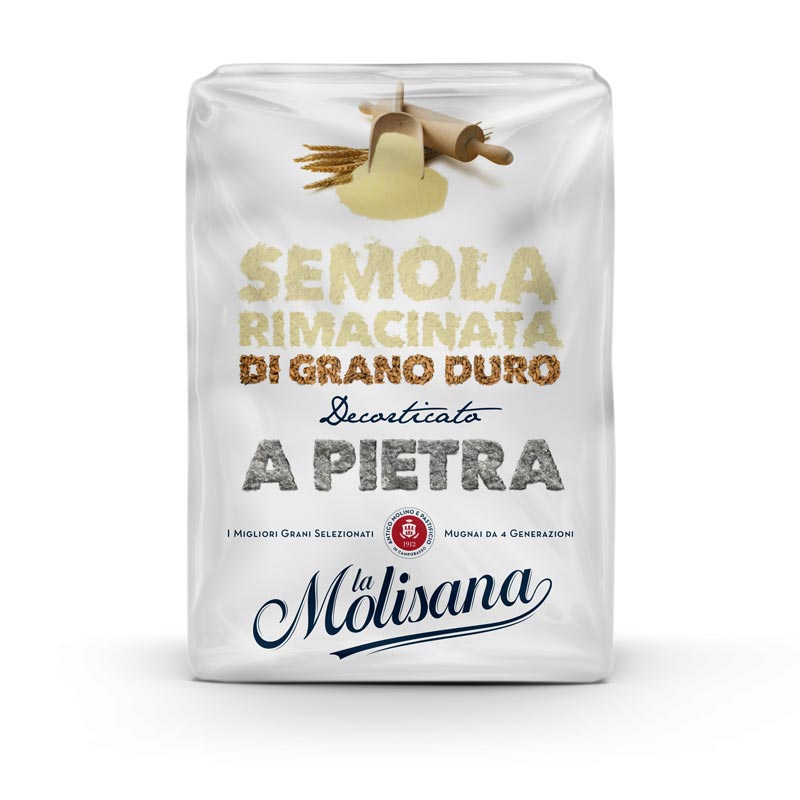 Pour into a large bowl 1000g of double milled durum wheat semolina, 550g of water in which we have previously dissolved 15g of brewer's yeast.
Dissolve 25g of salt in 150g of water in another container and add to the semolina mixture, adding 30g of extra virgin olive oil. Knead with your hands to mix the ingredients.
Transfer the dough to a work table, sprinkled with re-milled semolina and continue to knead until a homogeneous and elastic dough is obtained.
Leave on the table to rest for 10 minutes.
Resume the dough, cut it into two portions and knead until you get 2 smooth and compact loaves.
Place the loaves on a baking sheet, make incisions on the back of the dough and leave to rest for 2 hours covered with a cloth.
Bake for 10-15 min at 250°C.